The Cincinnati Zen Center was founded in 1994 and is part of the Furnace Mountain Sangha, a Zen community under the direction of Guiding Teacher Zen Master Dae Gak. Myo Wol Son-sa has been the Resident Teacher since 2008.
The intention of the CZC is to provide the support of community for those looking directly into the matter of this human life so that all beings may be free of suffering. Membership is not required for participation. In the spirit of Sokei-An, the first Zen teacher in America: All who come are welcome and those who leave are not pursued.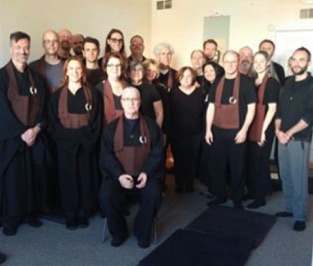 Other local centers affiliated with Furnace Mountain include the Zen Fellowship of Dayton and the Christian Meditation Group at Northern Hills United Methodist Church in Cincinnati. See our Weekly Schedule for details.
The Cincinnati Zen Center is a 501(c)(3) non-profit religious organization solely supported by donations, event fees, and the generosity of its participants. See our Membership page for details on ways to contribute.
Thank you for your interest in the CZC and in the Dharma. May your efforts save all beings from suffering.
Myo Wol, Resident Teacher
Dave Renke, Abbot
Suz Croutwater & Joe Fisher, Vice Abbots
Cincinnati Zen Center is a 501(c)3 Non-Profit Religious Organization
PO Box 14841, Cincinnati OH 45205
info @ cincinnatizencenter.org 513-278-3727
© 2018 Cincinnati Zen Center